Photos by Jack Stadtlander
DATE Built in 2018, modeled on a 19th-century farmhouse that had been in the family.
LOCATION Hancock, N.H.
PROGRAM To design and build a not-too-big family house, cast in the rural New England vernacular. Important considerations included low-impact efficiency, sustainability in construction and operation, healthful living, and planning for aging in place.
DESIGNER Patricia Gaylor Interiors: patriciagaylor.com
A big white farmhouse in Hancock, New Hampshire, served for a long time as the gathering place for Edward Gaylor's family; he has wonderful memories of visiting his grandparents there, every summer when he was a boy, and those memories never left him. The old house had been sold many years ago. Still, Edward—who is my husband—kept alive the idea of going back home to remake that legacy. As it turned out, a small piece of the original land remained in the family. In time, an opportunity arose for us to build a house on that land, and we decided to go for it.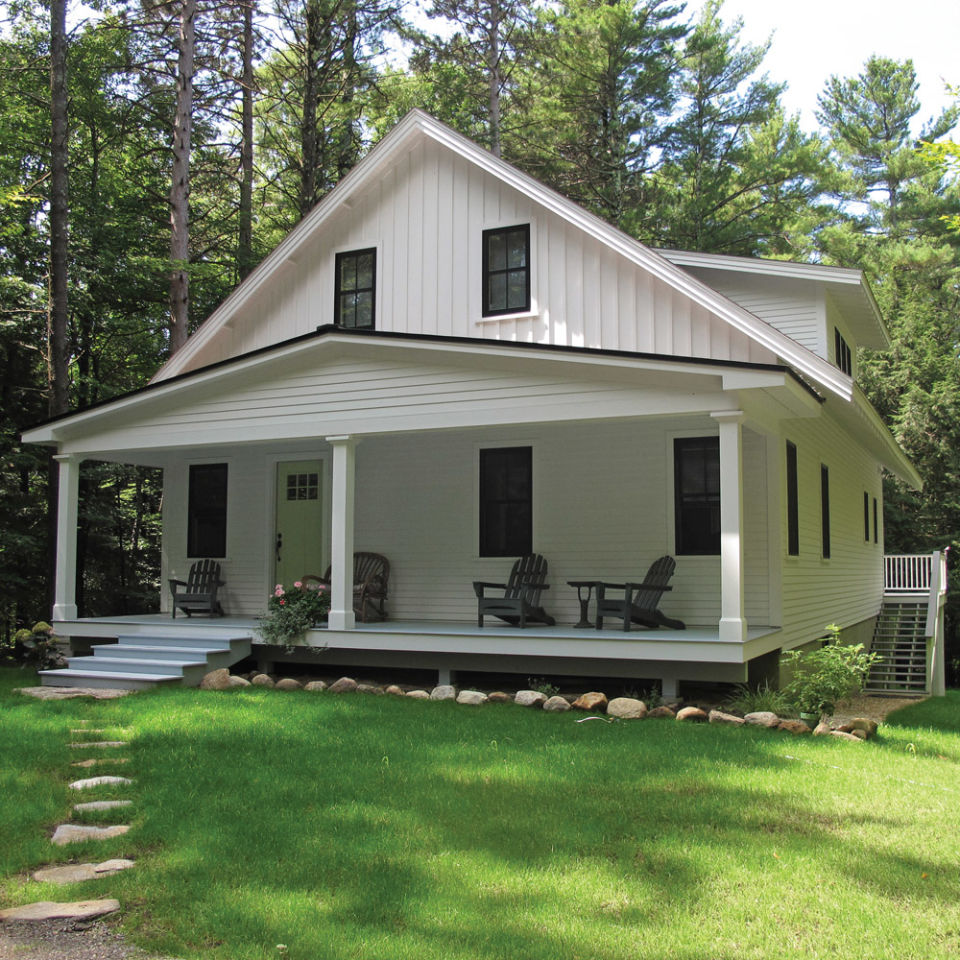 The idea behind the design was not to create a replica, but rather to emulate the style and atmosphere of the old house. We had limitations on size due to the property width and, of course, budget. We discussed layout and what things were important to us, both physically—like needing a first-floor bedroom—and emotionally—like choosing winders for the staircase, as a reminder of the old house. We both wanted pine floors to set the vintage tone.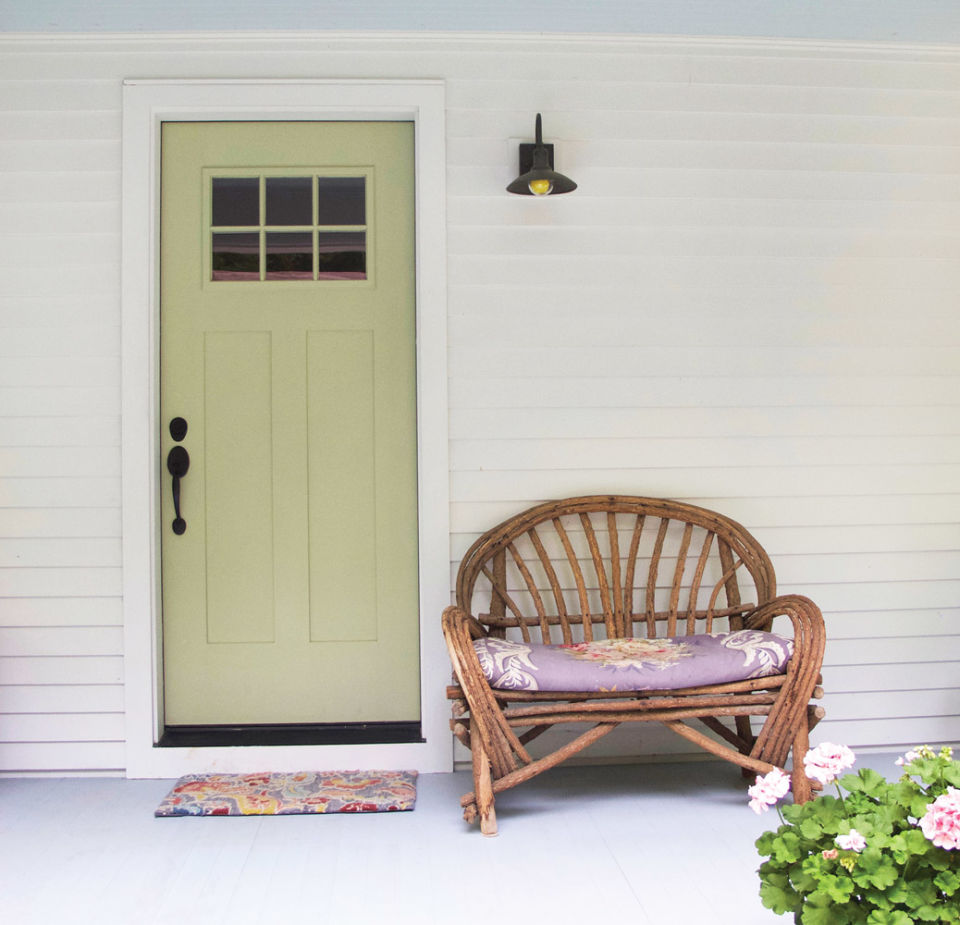 As an interior designer with a focus on sustainability, I was determined to use local materials, and also salvaged, reused materials, in the construction of the house. The wide-plank pine flooring throughout is from a wonderful company called Carlisle Wide Plank Floors. The flooring was harvested and milled locally, which reduces the carbon footprint of the house. As an added benefit, the local wood also looks authentic.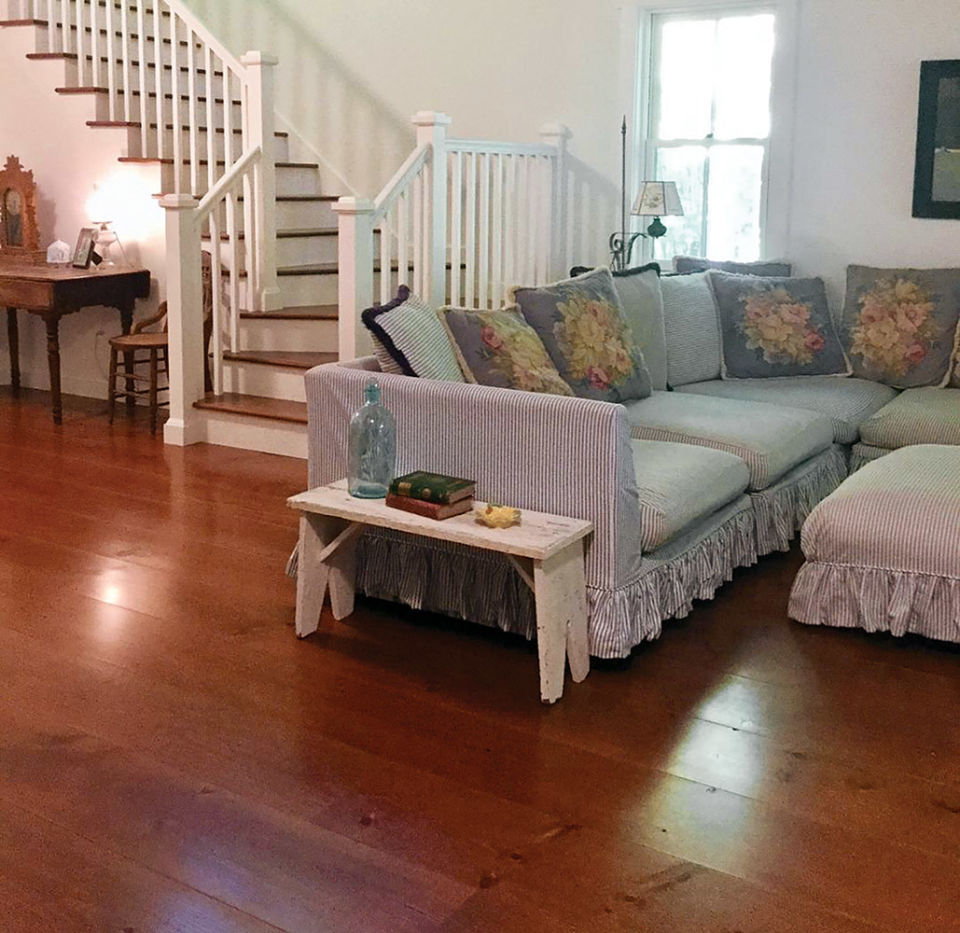 In the powder room, a salvaged pedestal sink from my father-in-law's house was finally brought back to use, after being in storage for many years. And in the bathroom upstairs, a table given to us by an old friend got turned into a vanity cabinet. Scrap flooring was used as shelves in a living room niche. Old, pale-blue bottles found in a bottle dump are a sculptural touch on a windowsill.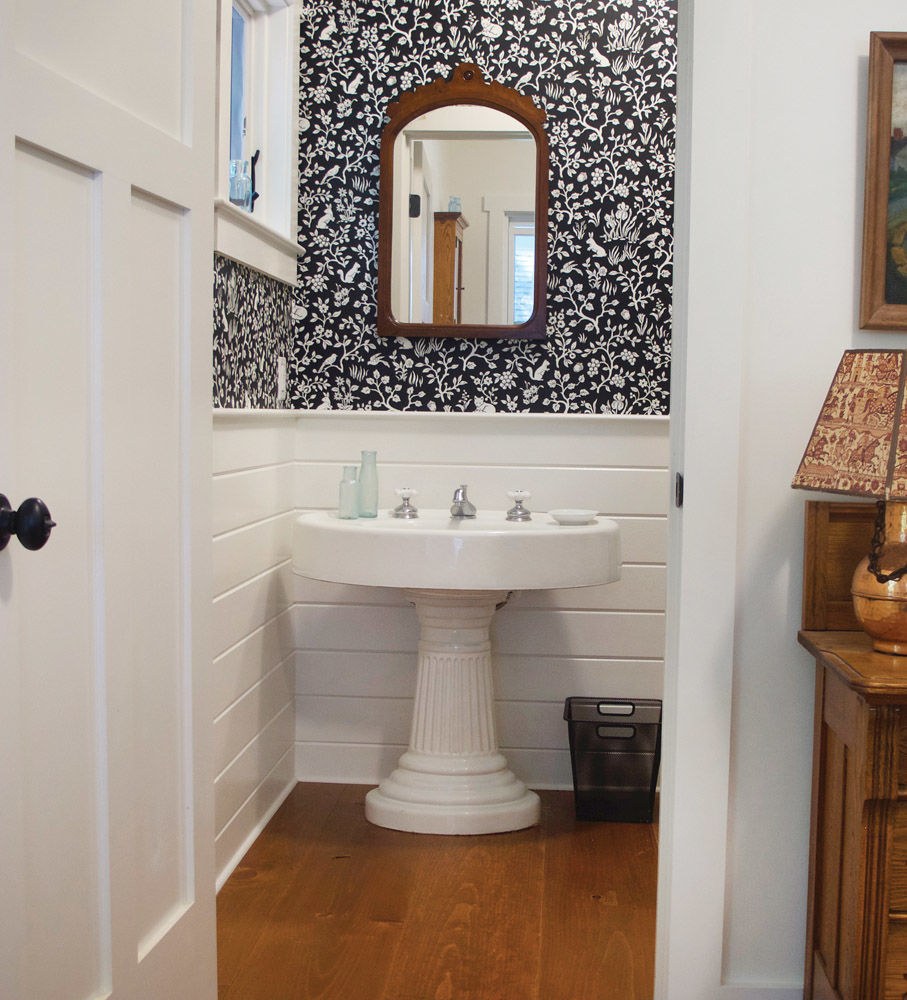 The farmhouse-style kitchen was designed on a modest budget. I used plain planks on the ceiling and as cladding on the vent hood. The idea was to make the area look like it had been converted from an existing back porch, as was so often done in the old houses.
I made the simple window valances using cotton gingham along with scraps from a vintage, fruit-motif tablecloth. I'm an incurable collector of vintage enamelware, too, which I display on the walls and on shelves. I think the vintage bits add both history and charm.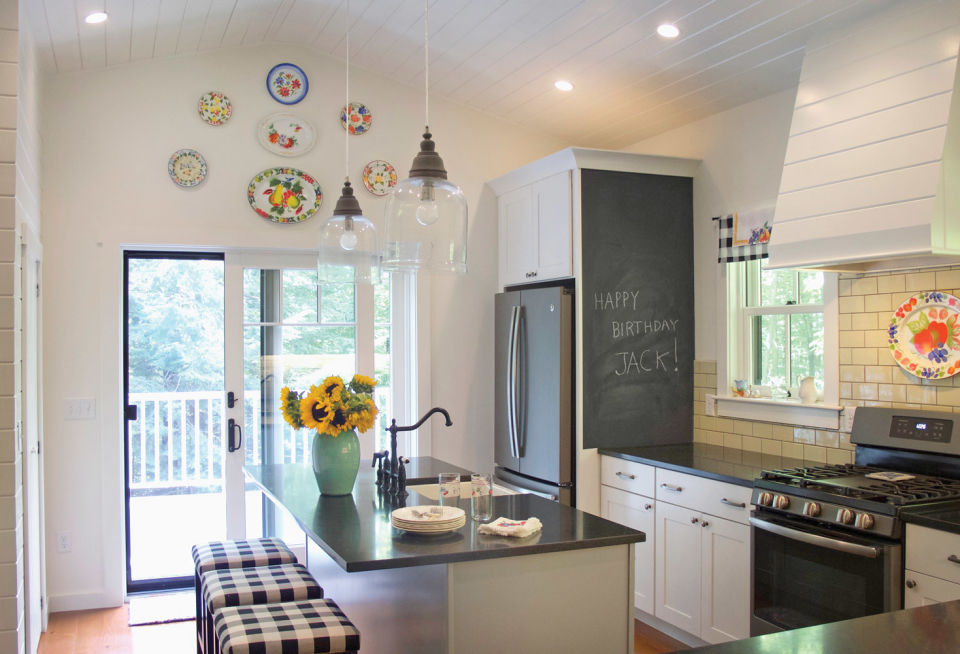 The "decorating concept" is to mix pieces that hold memories with thrift-shop finds and sturdy furniture.
Achieving Farmhouse-style Authenticity
How do you re-create the look of an antique farmhouse today, with so many factors in play?
• BE SMART ABOUT SIZE. Square footage drives the budget. Better to go smaller with a good design that maximizes usefulness and efficiency. Plus, you may have money left for better materials and finishes.
• IT'S OKAY TO ACCOMMODATE LIFESTYLE. In a new house, it's fine to have an open floor plan in the main rooms. And, to allow aging in place, to have a bedroom and bath on the first floor.
• BUILD IN EFFICIENCY FOR FUTURE SAVINGS. Current building codes will go
a long way to ensuring energy efficiency in new construction. Learn about insulation, window options, LED lighting, the best appliances, and so on.
• USE LOCAL MATERIALS WHEN POSSIBLE. Lumber and flooring can be from the region, cabinets and millwork produced locally. It's good for the local economy, reduces your carbon footprint, and makes the building more vernacular or authentic.
• USE SALVAGE AND REMNANTS. You can save money and keep stuff out of the landfill if you reuse old materials and objects. Also, buy leftovers: scrap wood for shelves or cabinets, remnant marble for a short countertop, etc.
Submit your successful project, large or small, to ppooreaimmedia.com.