Last year, Pasadena Heritage's Craftsman Weekend was re-imagined with a broader frame and a new name.
This year, Pasadena Heritage will be hosting a virtual, 10-day celebration of preservation and architecture, from Friday, November 5 through Sunday, November 14. The online event will include virtual tours, lectures, panel discussions, conversations with artists and collectors, and more.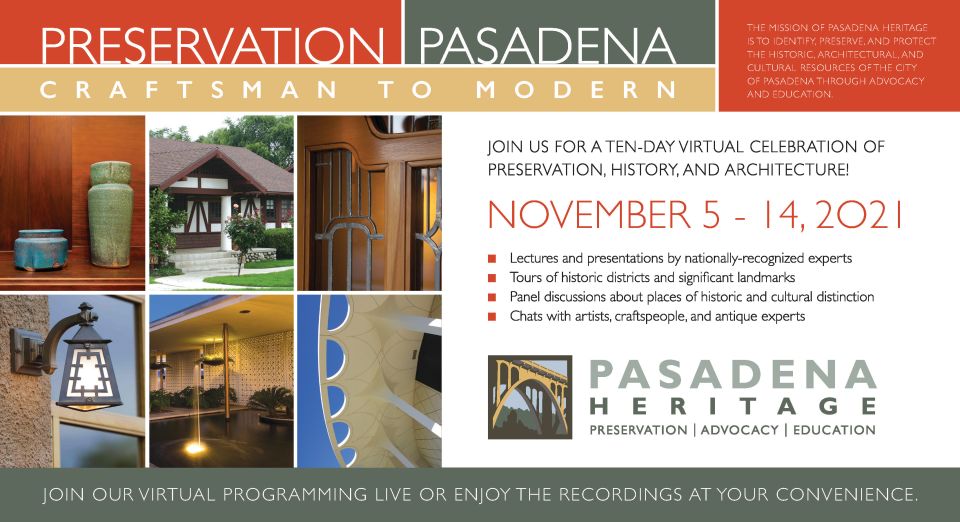 Most events will be hosted on Zoom, and recorded for those who cannot attend the live Zoom presentations.
The city of Pasadena is home to some of the most notable examples of architect-designed properties from Craftsman style to Modern and everything in between.
Explore architectural style and design from over five decades and learn the connections and differences that illustrate how architecture changed through time.
Participate from the comfort of your own home. Immerse yourself in great architecture as you experience over 15 programs throughout the week.
Save the dates: November 5–14, 2021. Visit their website for a complete schedule of the entire 10-day celebration.
Tickets are on sale now. All events are $15 for members and $18 for nonmembers. Full-package price for all events are $140 for members and $180 for nonmembers. Purchase tickets here. Memberships can be purchased here.