As an Amazon Associate, we earn from qualifying purchases made through affiliate links.
Sometime before 1830, the first cobblestone structure was built in Upstate New York. For the next 40 years, cobblestone buildings appeared from Lake Ontario, south into the Finger Lakes region, and as far west as the Illinois–Wisconsin border, where the second-largest cluster was built in the 1840s–50s. Although most cobblestone buildings are farmhouses, and in the Greek Revival style, other building types, built in styles from Federal to Gothic Revival, are found as well.
The word cobblestone comes from the Middle English "cobelston" (cob meaning rounded lump). Cobblestones or cobbles are classified as being 2 ½ to roughly 10 inches in diameter; i.e., a cobblestone can be held in one hand. Natural cobbles were created by glaciers and later by wave action on the shores of the Great Lakes.
A European precedent is seen along the coast of Sussex, England, where buildings were, as early as 1750, made of rounded beach flints laid in horizontal rows. It's the refinement of the decorative mortar treatment that makes American cobblestone construction unique.
An early building method interlaced cobbles with a simple rubble wall. The second construction method used a rubble core faced with smaller cobbles as well as long bonding stones that reached into the core. Stones on the face were matched, yet the stones were of irregular dimensions. This was popular through the 1840s. A third method started with a rubble wall; then a cobblestone veneer was laid separately. In this method, stones were small and regular, with no bonding stones. All used a soft lime mortar.
It's possible that 1,000 to 1,200 such cobblestone buildings were constructed, and 90% of them may be found in a 75-mile radius of Rochester, New York. This vernacular building type has its own museum, founded in 1960. The open-air Cobblestone Museum counts a cobblestone church, a cobblestone schoolhouse, and a cobblestone residence (dating 1834–1849) among its historic buildings. The Museum maintains a list of all known cobblestone structures in North America. Many resources are available to scholars and students. Cobblestone Society and Museum, Albion, N.Y.: cobblestonemuseum.org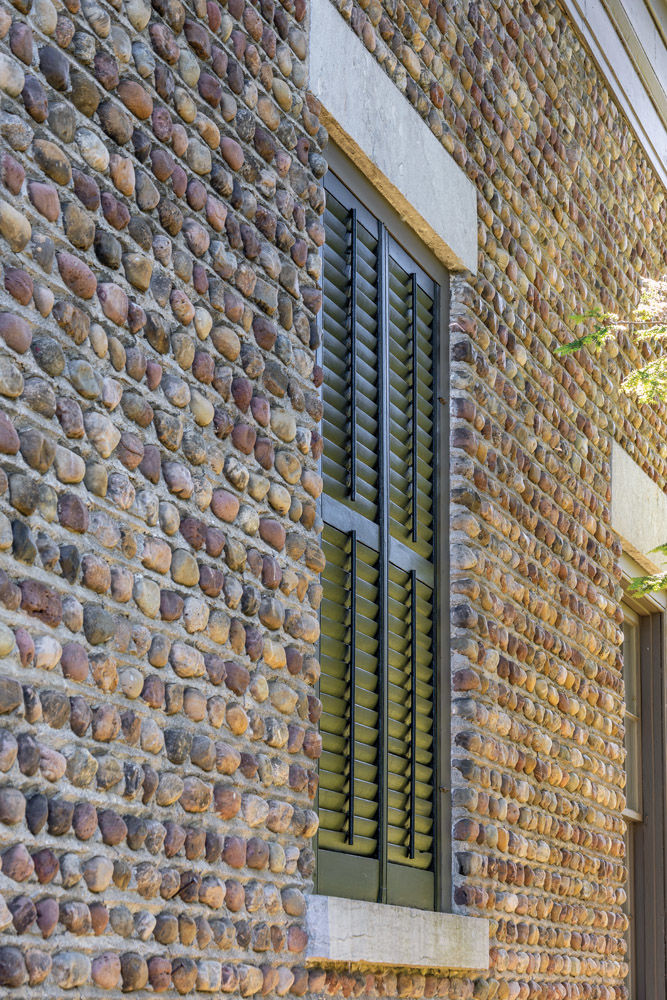 COBBLESTONE MASONRY TERMINOLOGY
adapted from the Cobblestone Museum
BEAD Projecting half-circle of mortar, about 1″ wide, to embellish joints.
COURSE Each horizontal layer of stone in the wall.
CORD Measure of 99 cubic feet of stone.
JOINT The division between stones, both horizontal and vertical.
PERCH Measure of 16 cubic feet of rubble stone.
POINTING The process of filling joints with mortar.
QUOINS Large, dressed stones for the corners, usually limestone or granite.
SORTING BOARD A plank with holes of various sizes, through which stones are sorted.
STONE BOAT A flat sled, drawn by horses or oxen, on which stones were collected in the fields and then transported.